Multiplayer games are truly very plentiful. These include shooters, where you have to get rid of your enemies in the most silent or, on the contrary, brutal way, and strategies, where the outcome of the match depends on each move, and even simulators, where a seemingly ordinary action can seriously affect all the players! For example, released not so long ago Don't Starve Together – a project that shows that life simulation does not exist as a subspecies of the multiplayer genre, but as a separate art form!
One can't help but notice that it's practically a single-player game, only with the ability to play with friends in the same world. That is, special innovations such as new worlds, plants or animals do not wait and should not. Except that the developers are constantly adding new characters and clothes for them. But the latter are most often dropped from the daily cases – another consequence of the axiom of the multiplayer genre. If there are no cases, the game is not what it should be.
How do I play Don't Starve Together?
The main objective remains to survive at all costs. You can eat just carrots and berries, growing an infinite beard, or you can build yourself an axe and try to get meat from the boar nearby. Another thing is that the latter is much easier to do with a friend. As the proverb says, "Two heads are better than one". And so it is now: while one is busy preparing shelter and fire, the other is looking for potential prey – wild boars, hares, and even squirrels or strange insects.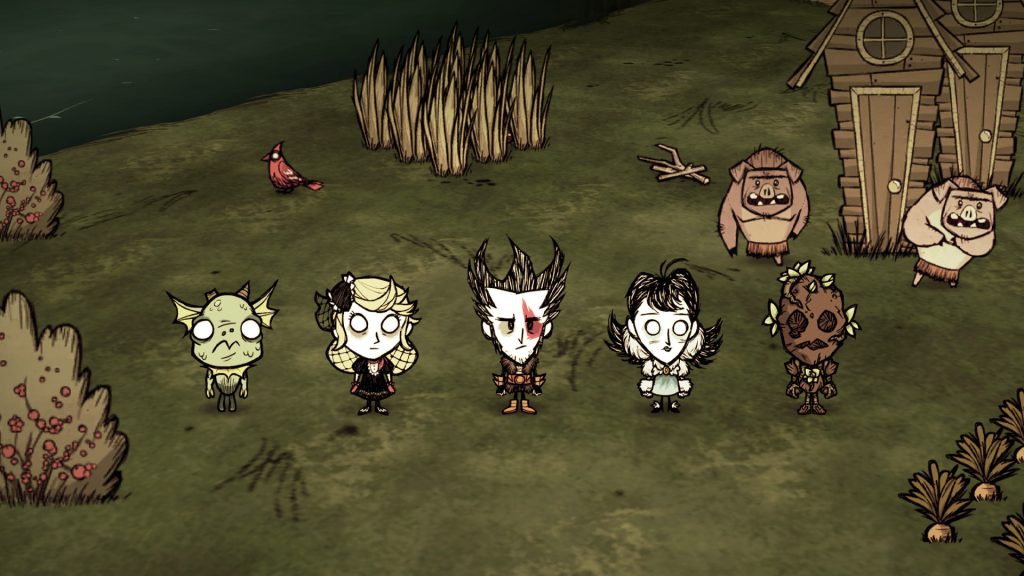 The developers didn't overcomplicate the gameplay. Of course, the number of opponents increased manifold, but the strength and life have not been added to them. Equally as well as the anger – as the king of flies threw himself on everyone, so he can not choose between two targets, constantly flailing. In some cases, it can even be very useful. For example, the process of setting up a shelter and basic alchemical installations becomes a lot faster. Oh, and it's worth noting that enemies die a lot faster if you shoot them from different directions.
But you can also play not with your friends, but on the world servers. There are both role-playing and strategy, and even "one against all", like 2b2t in Meinkraft. The choice is up to the player – most have free cells, more or less friendly playmates ready to come to the rescue with a boss victory. It feels as if the game takes place in a 2D MMORPG world where there are no skills, but hunger, thirst and even the power of the mind. Don't forget to make wreaths of flowers!
Those who like the single-player game anyway and only came in for the new characters can try them out when creating a single-player server. As stated earlier, there's been little change to the opponents apart from the quantity. However, this is optional and can easily be changed in the setting fields when creating the world. I'd like to point out that the number of caves, bosses and enemies in principle is also configurable there – an extremely useful thing that is lacking at times in the main game. Of course, Don't Starve Together has not yet acquired a "sea-playing" add-on, but the developers are going to introduce it for an additional fee.